Chevrolet Steering Wheels
The 1937 and 1939 Chevrolet Steering Wheels shown are representative of typical Chevrolet Steering Wheels from this era. We have molds for almost all Steering Wheels from 1935 through 1967, and we are always making new molds. Certain Chevrolet wheels can be reduced in diameter. Refer to the web page labeled Chevy-Reduced Diameter for more details.
To understand my process in recast steering wheels, please refer to the web page labeled OUR PROCESS.
Scroll down to the bottom of the page to view other wheels. Click on wheel to enlarge.
Features
Recast in Thermoset Specially Formulated Plastic
Rechroming of Separators & Hub Available
Stainless Steel Spokes Polished
Custom Colors Available
UltraViolet Stable, Colors won't fade
Grip Pattern as Original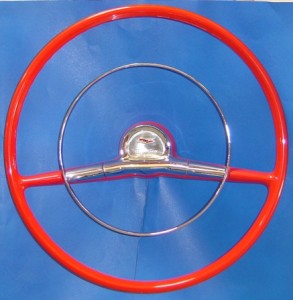 37 Chevrolet Banjo Steering Wheel
Condition as received with the original plastic so deteriorated that it would crumble as it was handled. The rim of the wheel was wrapped in burlap and that had rotted.
Stripping the Steering Wheel
The steel reinforcing ring was removed and sandblasted. The three separators were removed from the spokes and each stainless steel rod was removed from the hub. The three chrome separators and the hub were chrome plated and the stainless steel rods were polished. The steering wheel was reassembled and the reinforcing ring was welded to the spokes. The steering wheel frame is ready to be placed into a mold which was patterned from an original wheel. The finished steering wheel is molded exactly as the original.
37 Chevrolet Banjo Steering Wheel Finished
The plastic is poured into the mold and cured. The steering wheel is then removed from the mold. The parting lines are hand sanded and the steering wheel is coated with a UV inhibitor. The steering wheel is again cured, wet sanded and polished.

39 Chevrolet Accessory Steering Wheel
The old plastic was removed. The frame was sand blasted and the four stainless steel spokes were polished. The rim was molded in Urethane plastic with a brown marble finish.

39 Chevrolet Accessory Steering Wheel Finished