Cadillac Steering Wheels
Cadillac Steering Wheels shown are representative of typical Cadillac Steering Wheels from this era. We have molds for almost all Steering Wheels from 1935 through 1966, and we are always making new molds.
To understand my process in recast steering wheels, please refer to the web page labeled OUR PROCESS.
Scroll down to the bottom of the page to view other wheels. Click on wheel to enlarge.
Features
Recast in Thermoset Specially Formulated Plastic
Chrome Spoke Finishers are Re-chromed
Custom Colors Available
UltraViolet Stable, Colors won't fade
Grip Pattern as Original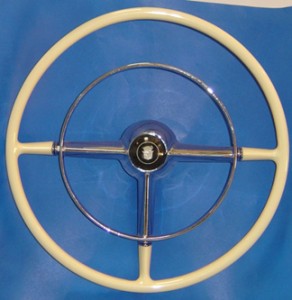 1949 – 1950 Cadillac Recast in the original ivory color. The color tinting process is accurately controlled to achieve the original "translucent" effect.
49 Cadillac Steering Wheel in Original Condition
Condition as received with the original plastic so deteriorated that it would crumble as it was handled. The black electrical tape is holding the plastic to the frame.

49 Cadillac Steering Wheel Finished
The Process:
I remove all of the old plastic, bead blast the frame and paint it the same color as the plastic. Through my proprietary process, I cast on a specially formulated thermoset UV stable plastic in the original configuration without loss of the original detail. The urethane does not shrink, crack, turn yellow or change colors.
The steering wheel frame is placed into the appropriate mold. The clear liquid plastic is tinted to the desired color and added to the mold. Upon completion of the curing process, the plastic is heat treated, sanded and polished. The color is uniform throughout the plastic and the finished product is polished plastic, not a painted wheel. The molded plastic is one complete casting, there are no joints.